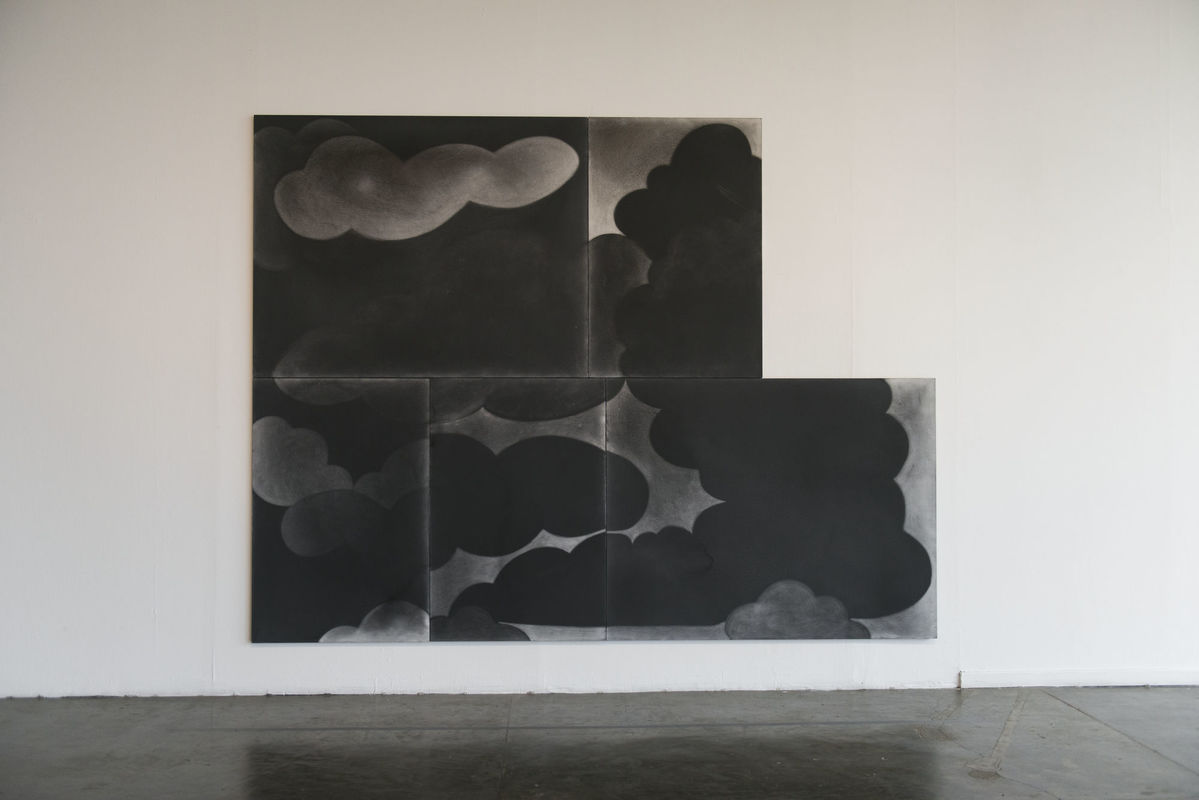 The work of Los Angeles (USA) based artist Silke Otto-Knapp (1970, Osnabrück, Germany – 2022, Pasadena, United States of America) is influenced by images and concepts from 20th-century dance, theater, and performance. With medium and large format works that function both autonomously and in semi-architectural groupings, Silke Otto-Knapp draws inspiration from the long-established tradition of painted panels and set design. In her paintings, she alternates between natural, idealist landscape backgrounds and subtle, mysterious interior scenes, where figures in motion evoke recent episodes in the history of modern and contemporary dance. Her works occasionally take reference from other, mostly female, artists, from American dancer Anna Halprin to Russian painter and set designer Natalia Goncharova, both key figures in shifting paradigms of modern dance and art, respectively. 
Otto-Knapp has developed a particular pictorial language. First, she transfers her drawings to canvas, developing the forms with layers of black watercolor paint, which she later sprays with water. As the paint dissolves, the artist cleans the surface so the color drains from certain areas and settles in others as it dries. The artist creates smooth, transparent colors, where the different layers and subtlety of contrasts create images with hazy, atmospheric contours. This dual possibility of permanence and instability chimes with her predilection for the rehearsal setting as a theme, recreating the moment before a performance, before the action happens, in a state of movement and waiting.
For the Bienal de São Paulo, Silke Otto-Knapp has created a series of medium and large format paintings that form a kind of setting, both in terms of their subject matter and their arrangement inside the pavilion. Continuing her investigations into theatrical space, the chosen themes range from performers in motion to backdrops painted onto large canvases. In each of the scenes, the idea of continuous rehearsal carries a sense of suspended movement. Gravity, weight, and the organic flow of movement draw the figures of a dance troupe or the painted trees of a forest. It is an organic, collaborative movement that flows without pause.
The paintings rest on panels or function as folding screens and autonomous structures. The motion exists not only in the action of the choreographic and/or theatrical subject itself but also in the way the public moves around the work. Meanwhile, the human-sized painted landscapes portray an artificial nature that contrasts with the vegetation surrounding the pavilion in Ibirapuera Park, creating a dualistic setting.
Caroline A. Jones, Eyesight Alone: Clement Greenberg's Modernism and the Bureaucratization of the Senses (Chicago: University of Chicago Press, 2005).

Greenberg's Modernism and the Bureaucratization of the Senses (Chicago: University of Chicago Press, 2005).