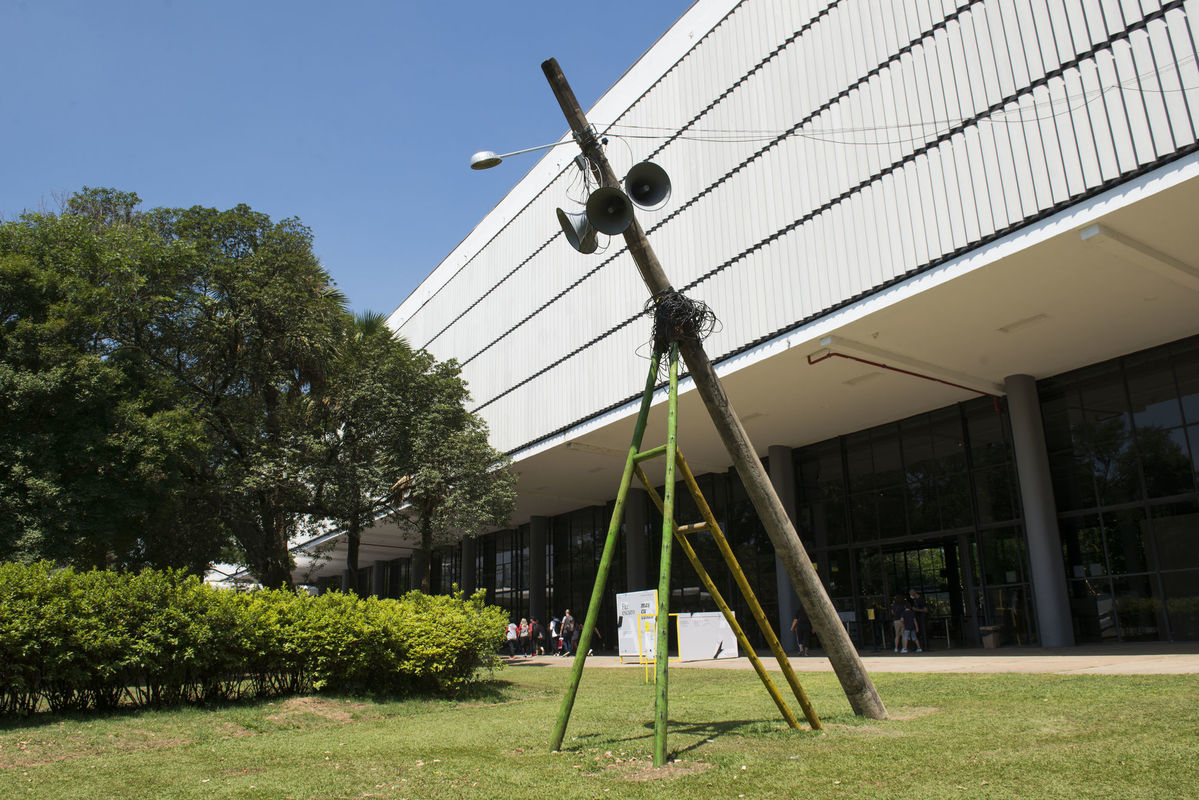 Overlapping, or even colliding, narrative layers and distinct registers are common features in the writing of actress, dramaturg, and film and theater director Grace Passô (1980, Belo Horizonte, Mato Grosso State, Brazil). Her play Vaga carne [Dazed Flesh] (2018), for example, features a voice that occupies a woman's body. The idea of an autonomous realm of voice and speech, potentially independent from the body, is quite natural in Passô's universe, who, in both her writing and at the moment of interpretation (or, one could say, of performance), occasionally turns to other registers of language, including neologisms, sounds, glossolalia and the obsessive repetition of a few words until they become detached from their common meaning. Passô's choice of metalanguage, which questions itself as it is being constructed, could be read as a means she has found to address the desire to appropriate mechanisms in her practice that break language norms. As the artist states: "there is enormous power in writing what you yourself will be saying. And being a black person turns my practice into a way of existing closer to freedom".
Passô was invited by Ana Kiffer – curator of the statement of the 34th Bienal that examines the relationship between the idea of the "cut" in the writings of French writer, poet, dramaturg, actor, and theater director Antonin Artaud (1896-1948), and the Poetics of Relation by the Martiniquais writer, poet, philosopher and literary critic Édouard Glissant (1928-2011) – to devise a rereading of Artaud's classic radio play Pour En Finir Avec le Jugement de Dieu [To Have Done With the Judgment of God] (1947). Based on the sonic fiction concept developed by the British-Ghanaian writer Kodwo Eshun, whose work is also rich in neologisms and is characterized by coexisting distinct registers in the construction of an Afrofuturist musical panorama, Passô's play is a collaboration with the Brazilian musician Barulhista, featuring Maurício Badé and Thelmo Cristovam, in which Passô's voice makes "the future vibrate in this old text that has always had the future within it. It is an evocation of words that are resistant to the automation of sensibility. It is an encounter among aliens".

Caroline A. Jones, Eyesight Alone: Clement Greenberg's Modernism and the Bureaucratization of the Senses (Chicago: University of Chicago Press, 2005).

Greenberg's Modernism and the Bureaucratization of the Senses (Chicago: University of Chicago Press, 2005).